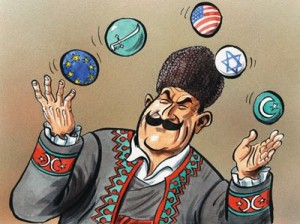 THURSDAY, MARCH 18, Olympia Center, 7:30 PM, Room 101
SPEAKER: Turan Kayaoglu,

Assistant Professor of International Relations, University of Washington
TOPIC: Issues in Contemporary Turkish Politics
There are two interrelated questions dominating popular debates about Turkey in the United States: Is Turkey moving away from the West?

Is Turkey moving away from secularism?
Professor Kayaoglu will explore these questions and also question regarding politics, religion and Turkish history which these questions are predicated upon.

He will evaluate Ataturk's legacy and Turkish democratization, discussing the controversies over the involvement of the military in politics and the possibility of a Turkish Islamic republic.

He will also discuss how these topics affect Turkey's relations with the United States, NATO partners, the European Union, Greece, Cyprus and the Middle East.
Professor Kayaoglu received his undergraduate degree from Bilkent University in Ankara, Turkey, his MA in International Studies from the University of Denver and his PhD from the University of Washington.

He has published numerous articles, and his book Legal Imperialism: Sovereignty and Extraterritoriality in Japan, the Ottoman Empire and China
will be published by Cambridge University Press.

He is working on a second book examining the structure and operation of Islamic groups and activists in the United Nations.