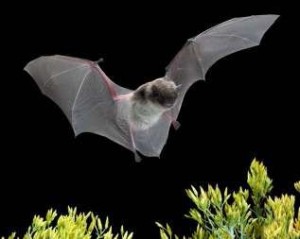 There are 15 bat species native to Washington, one of which is Yuma myotis (Myotis yumanensis). This little bat is medium dark brown with a darker brown face and ears. Yuma myotis can live up to 20 years and have an average weight of 6 grams. They are about 3-5 inches long with a wing span of about 9 inches.
Yuma myotis love to live near calm or "slack" water, where they can fly swiftly just above the water's surface to catch small insects like mayflies, midges and mosquitoes. Places with extensive open freshwater lakes and wetlands provide ideal foraging habitat.
Summer roosts for Yuma myotis bats include crevices in cliffs, old buildings, mines, caves, bridges, and abandoned cliff swallow nests. Here locally, that means thousands of Yuma myotis can be found roosting at Woodard Bay, the largest known colony in Washington State and only 1.5 miles from the Lonseth Preserve.
Bats are the only flying mammals and are extremely beneficial because of their ability to eat enormous quantities of bugs. Yuma myotis is an important riparian species, but likely has been eliminated along many streams in western states by habitat loss and disturbances to colonies while they are hibernating or when mothers are nursing offspring.
Sources: Bats About Our Town, Bats Northwest, U.S. Bureau of Land Management, Idaho State University.
See Michael Durham's amazing bat photography and more at http://www.durmphoto.com.
Reprinted with permission from the Fall newsletter of the Capitol Land Trust. 
Click here for more on the nature around us.
In other news regarding the Capitol Land Trust, we learn of the successful completion of a restoration project in our neighborhood:
For over 50 years, the Allison Springs property, located near the southern terminus of Eld Inlet, contained dikes that blocked fish from spawning. This past year, we worked with South Puget Sound Salmon Enhancement Group (SPSSEG) and other partners to remove all six dikes and to revegetate along the new creek channel. On the adjacent Randall Preserve, we removed three structures and decommissioned a road before planting the area. The total planted area from both projects is over two acres, with about 3,000 native plants installed!
Restoration project partners were Washington Department of Ecology,

South Puget Sound Salmon Enhancement Group

, U.S Fish and Wildlife Service, Washington Conservation Corps,

Sound Native Plants

, People for Puget Sound, Ralph Plowman – Black River Farm LLC, Thurston County, Shelly Bentley, City of Olympia,

South Sound Green

,

WSU Extension Native Plant Salvage Project

, Mason and Thurston Conservation Districts.
Capitol Land Trust is celebrating 25 Anniversary. Mark your calendars for their 8th Annual Conservation Breakfast, Tuesday February 12, 2013, 7:00 to 8:30 AM at St. Martin's University.
The Griffin Neighborhood Association is proud to have creates the Steamboat Conservation Partnership with the Capitol Land Trust. The Partnership was created to conserve the rich and diverse natural landscapes of the Steamboat Peninsula region. Click here to learn more about the Steamboat Conservation Partnership and how you can help conserve habitat right here in the Griffin area.